(Hover mouse over top panel to stop it moving)
Australia's Largest Tropical Plant Nursery
Set on a 38 hectare (100 acre) site in Australia's tropical North, Darwin Plant Wholesalers tropical plant nursery is proud to provide over 500 species of exotic and Australian native plant species for sale in over 4,000 separate stock lines.
We supply chain-stores, nurseries, landscapers, governments, developers, indoor plant specialists and retailers all over the country - and occasionally overseas - with high quality plants at wholesale prices – and our experience in shipping plants across the country and around the world over almost forty years means we know how to get your plants to you in good condition, quickly and at minimal cost
Above - the beautiful, long flowering Carphalia kirondron - available from DPW from August this year, only a couple of months to wait!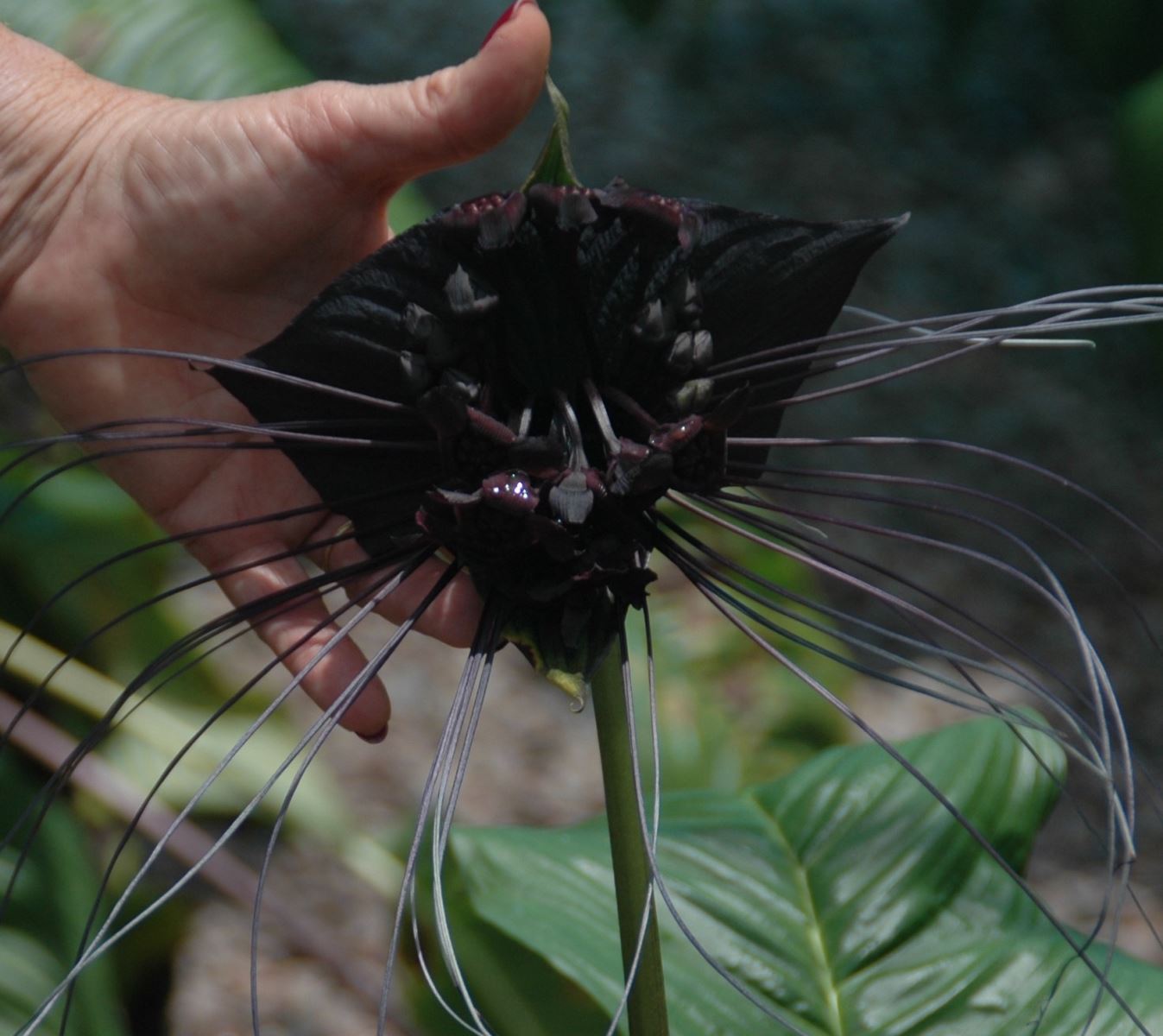 Above - TACCA CHANTRIERI - the bat plant. This spectacular jungle plant is native to Thailand and Myanmar, but will do well in any shaded tropical garden. Makes an excellent container plant and will do well indoors with adequate light and humidity.
We don't just sell plants!
Because of our major nursery production requirements, Darwin Plant Wholesalers imports raw materials such as Coco Peat, vermiculite and perlite - and carries many allied products that you can add to your plant order, for your convenience. The range we offer includes a comprehensive list of fertilsers, horticultural chemicals etc as well as our house brand Green Gorilla tropical potting mix, and high qulaity German-made Berger Tools. You can download our General Stock list (as well as other lists) by clicking 'Price List Access' - above right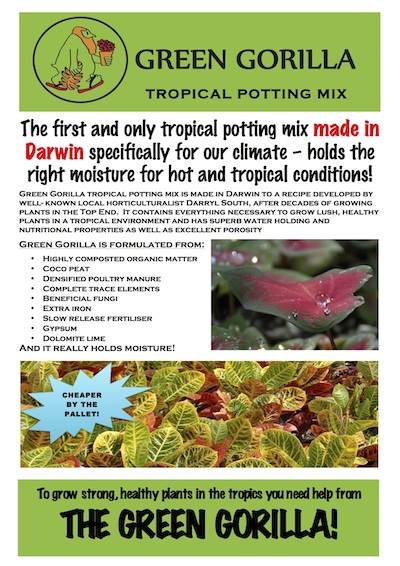 WE WANT MORE TREES - PLEASE! Darwin Plant Wholesalers principal and Nursery & Garden Industry Australia Life Member Darryl South is calling for planning authorities to require developers to put more shade trees into new subdivisions. "The current practice of placing houses shoulder to shoulder, often with gutters almost touching and with no room for trees has to stop," he said. "Most Australian's live in a hot climate, and are increasingly worried about out-of-control rises in energy costs. Shade trees can play a huge role in helping to keep energy costs down, and also improve amenity. The planning laws should have a clear ratio of the number of trees required to be planted for each house built, as well as the requirement for more trees for open space". Darryl believes that shrubs, ground cover and other plants still have major roles to play in new suburban landscapes, but planning for trees should be integrated with the layout of the buildings. Citing a recent television program which showed new subdivisions in the UK where strips of land are set aside between the houses specifically for tree planting, Darryl stated: "It seems remarkable that even in the cool British climate, authorities can see the benefits of tree planting in new subdivisions, but in Australia we seem to still be in the dark ages!" Other anomalies that Darryl says should be addressed in modern developments include the lack of sufficient shade trees in shopping centre car parks, the lack of verandas, eaves or overhang in many modern houses (allowing the sun to beat directly into the building), and dark coloured or black roofs which absorb heat.