Australia's largest wholesale tropical nursery
---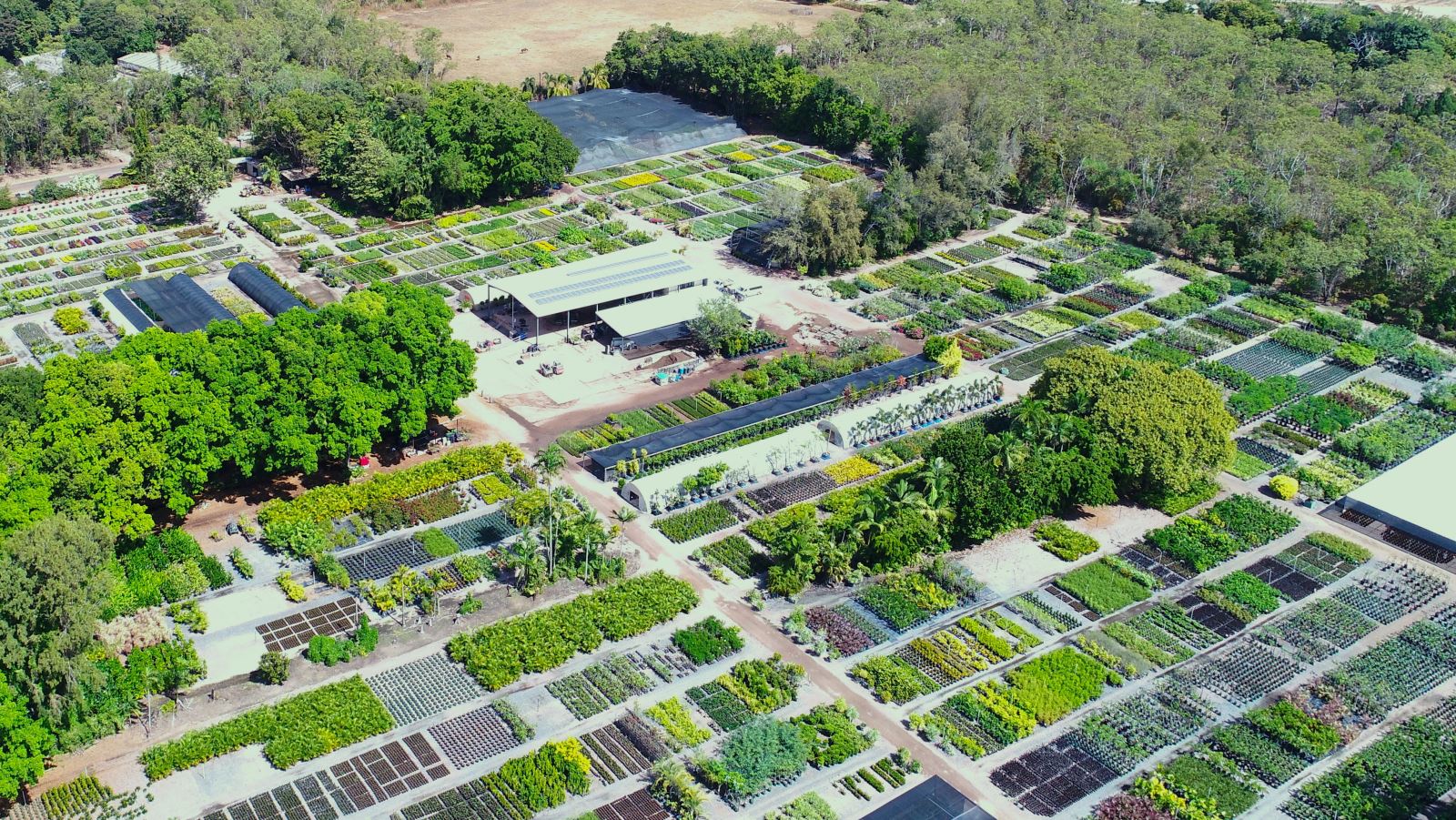 Above - Drone aerial of main nursery site July 2017
At Darwin Plant Wholesalers, we specialise in:
Straight stemmed shade and street planting trees, in 20 litre up to 500 litre bags, suitable for most areas of Australia
Tropical and sub-tropical flowering shrubs
Plumeria – Australia's largest variety of Frangipanis, including evergreen and deciduous, dwarf and taller species. Every year we are able to produce more new colour hybrids from the 12 acre plot of mixed Plumerias planted out at the nursery
Ground Cover and strappy-leaf plants
Palms – extensive range in 200mm pots up to 300 litre bags
Foliage – we can provide a big range of beautiful foliage plants all year round – perfect for indoor plant operators
Small plants and potted colour - as the major supplier in the NT to local chain stores, we grow a good range of flowering lines and potted colour
Edibles – we grow a full range of fruit trees and citrus, including Pineapple, Papaya etc., as well as herbs and other seedlings
A wide range of Top End and Australian native plants
We are also plant collectors and breeders and continue to find and develop new plant hybrids – see "Patented Plants" under the Plants tab for more detail
Under our in-house GREEN GORILLA brand we manufacture and sell a range of wholesale nursery consumables such as fertilisers, bagged soil products, coco peat (which we direct import), perlite and vermiculite, plant pots, bulk potting soils and garden tools
See our online catalogue for current availability (you will need to apply for a login to access prices and sizes), or dowload our lists from "Downoad Lists" at the top right of the page. Please note we are strictly wholesale

Darwin Plant Wholesalers continues to evolve and refine new and better propagation and growing methods, production systems, handling and packing systems and technology in order to achieve their major goal as Australia's premier tropical plant nursery – which is to deliver to the customer superb quality plants and products to any location. In recent years we have invested heavily in additions to our mechanical plant handling and production systems in order to further streamline the production process, and we have also implemented comprehensive, Nursery Management software which provides state of the art control over all facets of the production and sales processes as well as providing integration with our accounts system and the company website.
If you need outdoor plants or wholesale nursery products, a great range of indoor plants, or if you want species that are not in our catalogue; if you need contract growing facilities for an advanced plant order, or simply help specifying plants for a particular project or location, please give us a call or drop us a line.
Shopping online for quality plants at wholesale prices, don't look past Darwin Plant Wholesalers. Check out our catalogue, drop us an email at sales@darwinplants.com.au or give us a call on +61-8-8988 1888 to place your plant order!